What are Dental Implants?
Dental Implants are the most robust and raven method of replacing a missing tooth, or to improve the stability of dentures. The Implant consists of a tooth root made of titanium which is set into the gum, the new tooth or crown is then place on top of it and matched with your other teeth to fix the gap in your smile.
Are Dental Implants the right choice for me?
Only your dentist can really decide if Dental Implants are the best choice for you, after a full assessment and evaluation of your mouth and smile. But, if you are missing a single tooth, multiple teeth, or would like to secure your dentures them Dental Implants could be the best option for you.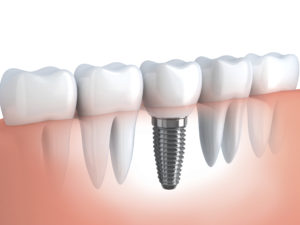 Benefits of Dental Implants
Improves the patients ability to Smile, Chew and Speak
By securing the dentures in the mouth and fixing the gaps in between the teeth, Many patients maintain that his improvement drastically increases their overall confidence in everyday life.
Dental Implants restorations Look, Feel and Act like Natural Teeth
Once the titanium dental implant is place in the jaw it is covered by either porcelain or porcelain fused to metal crown, bridge or dentures. The dentures are generally made with an acrylic base and plastic or porcelain teeth and are made to match your existing teeth,
Implants are totally Secure and Stable as they are Anchored into the jaw.
Unlike conventional bridges which involve tooth preparation dental implants are not supported by adjacent teeth. There there is no risk of damaging or affecting the structure of existing teeth.
Dental Implants require No Special Maintenance
We generally recommend that you maintain good oral hygiene with brushing, flossing and routine check-ups and hygienist visits every 6 months.
Restore and Enhance Facial Contours
When people have missing teeth or gaps in their smile it can throw off the alignment of the mouth and facial shape, this can be rectified by using Dental Implants.